The pandemic has affected nearly every aspect of our lives for almost a year. There isn't one industry that hasn't been impacted by COVID, though some have certainly fared worse than others.

Across the nation, the real estate market has stayed relatively strong. Buoyed by low mortgage interest rates and a new atmosphere where workers can live in areas far from their offices due to remote work arrangements, the real estate market has avoided the hit that others have taken. The situation is a bit different in large cities like Manhattan.

If you're considering Greenwich Village townhouses for sale or selling a property in Manhattan shortly, you'll want to know how the industry has been impacted so you can make smart decisions. Here are six of the most significant recent developments in Manhattan real estate.
1. Rents Have Plummeted

In Manhattan, rents on Greenwich Village condos and other neighborhood homes fell from a median of $3,509 per month in March 2020 to a median of $2,776 per month in November of 2020 — the lowest median rent price in the city since 2010. The reason for these falling rents was because people began leaving the city for less expensive suburbs. This option opened up for thousands of New Yorkers who could work from home and not worry about commute times.

Some of these workers may not come back to the city — especially if they're allowed to continue to work from home even as the pandemic eases. However, most experts predict that as the vaccines take effect and the city begins to open up more, people will return to Manhattan, and rents will likely increase again in 2021.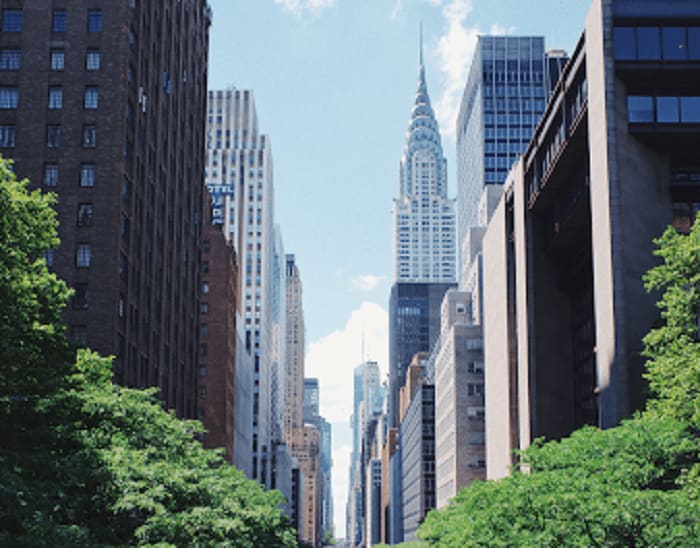 2. Brooklyn Has Gotten Hot

Brooklyn has significantly benefited from Manhattan's woes during the pandemic. This borough saw a jump in pending townhouse sales that hasn't been equaled since 2010. While Brooklyn may not have been an option for those living in Greenwich Village condos and working in the city before the pandemic due to long commutes, the work-from-home trend changed everything. With more outdoor space, less expensive housing, and larger apartments, Brooklyn has attracted new residents at a record pace. Other boroughs like Queens have also seen a jump in recent sales for the same reasons.
3. Manhattan Homes Began Selling for Below Asking Price

Manhattan has traditionally been the epicenter of New York real estate, but that all started to shift in March of 2020. Greenwich Village townhouses for sale and apartments in Midtown saw offers dwindle, and the offers that did come in were for much less. From March to September of 2020, there were only five neighborhoods in New York where more than half the homes sold above the asking price: Downtown Brooklyn, Flatbush, Gowanus, Greenwood Heights, and South Jamaica. None of these neighborhoods are in Manhattan. Bargain hunters became hopeful they could get Greenwich Village condos for a steal, but that never materialized. While prices did drop, they never collapsed.




4. The Suburbs Soared, Then Plateaued

Shortly after the pandemic hit in March 2020, the suburbs surrounding Manhattan experienced extraordinary growth. From May to July, homes that had been sitting empty flew off the market as people left the city. This was driven by low mortgage interest rates and new work-from-home situations that allowed buyers to invest their money in more spacious properties outside the city. In Westchester County, the median home sale price experienced a 20.4 percent jump over the last year, the most significant price increase in more than 28 years.

While sales remained high throughout the summer and fall of 2020, the massive rise in sales started to plateau this winter and is expected to level off even more as we progress through 2021.
5. Condo Living Continues to Gain Popularity

Though single-family townhouses continue to be the most common type of home in the suburbs, Greenwich Village condos and apartments in other parts of the city are the housing of choice for many. One of the areas where condo development started to take off in the past few months was near transit lines in downtown areas. Though the pandemic has expanded the boundaries of where people are willing to live due to remote work situations, prospective buyers have begun to make plans for what their lives will look like if and when they return to the office. This means that access to public transportation will be critical, and construction companies are responding to that need by developing condos along transit lines in suburbs, outer boroughs, and downtown areas.




6. A Hit to Consumer Confidence

The pandemic has led to uncertainty in almost every part of our lives. In Manhattan, as in other areas, this manifested as an all-time low in consumer confidence leading to a lack of Greenwich Village townhouses for sale, a reduction in spending, and overall hesitancy about what the future will bring. Since the vaccine has begun to roll out, consumer confidence has started to creep up, but experts warn it will take months before it even begins to approach pre-pandemic levels.

Of course, as confidence increases, prices of Greenwich Village condos and other prime real estate areas will also increase. Those who were looking to score a COVID deal on a property will have to act fast, especially if they want to buy in the city. As businesses begin to reopen, it's likely that those who had moved out of the city to work from their homes will return, causing more competition for housing.

The Manhattan real estate industry took a hit in the past year, but that doesn't mean you need to hold off on property decisions. To know how the pandemic will affect your real estate buying or selling decisions, work with an experienced real estate agent like those at The Mackay Dixon Team, who will help you navigate the market and make solid decisions.