To say that the recent coronavirus pandemic altered the landscape of New York City and, in particular, Manhattan would be an understatement. Bars and restaurants shut down or operating in a limited capacity. Concerts, sporting events, and other large public gatherings forbidden. Even iconic NYC institutions such as Broadway shuttered and left sitting dark for more than a year.

The crisis spread far enough to stifle the city's famed housing market. Residents with means fled to the suburbs. Transactions for buildings and condos and apartments, once vibrant and robust, suddenly ground to a halt.

Unlike other areas of the country, where the pandemic was fueling hot suburban housing markets, there was plenty of uncertainty surrounding New York City's real estate future.

But with vaccines, and decreasing infection rates, the city, as it has so many times before, is bouncing back in a big way.

New York is opening back up. And with increasing vaccination rates, optimism is born anew Broadway turns the marquees back on in September — including within Manhattan's vaunted real estate market.

For those looking for investments, your time is now.

During the ramp-up to reopening, there's a narrow window of opportunity for investors to deal — to make the most of the current lull in activity before significant investment dollars come roaring back to the city.

But where to invest?

Though many of Manhattan's 45 neighborhoods offer some level of investment opportunity, five communities stand apart.

Just in time for the summer season, let's explore the best Manhattan neighborhoods to invest in.
1. Chelsea

Few areas in Manhattan offer their residents a more dynamic, exciting lifestyle than Chelsea. Many consider the area a culturally rich hub of activity. It's a sizable neighborhood that runs along the Hudson River for 20 blocks and serves as one of the best destinations for artists.

Distinctive architecture reigns supreme in Chelsea. Coupled with its numerous world-class art galleries, it's not hard to see the appeal. Its strategic location — you're an easy walk away from Midtown, the Empire State Building, Union Square, and Washington Park Square — makes it an ideal setting for professionals and families alike.

The area is also home to the famous High Line park, a former elevated rail line turned upscale urban oasis. Then there are the endless recreational opportunities spread along the Hudson and featuring prominently at the popular Chelsea Pier.

Historic brownstones and avant-garde buildings line Chelsea's fashionable streets. They're never too far from the neighborhood's buzzy nightlife, including several of the city's best restaurants, nightclubs, and performance venues.

Google's adjacent NYC headquarters only further enhance Chelsea's standing as one of Manhattan's most vital neighborhoods
2. Gramercy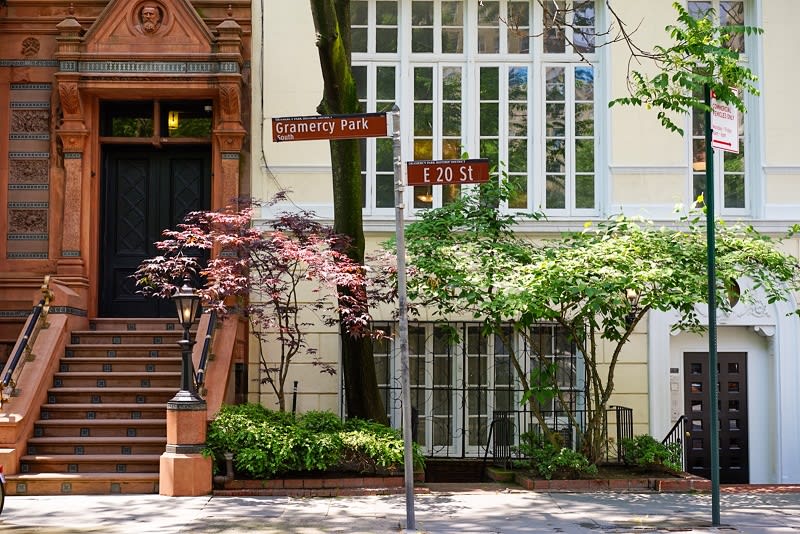 Gramercy centers around the area's namesake green space. A rare commodity in Manhattan, it's the only neighborhood in the borough featuring a wholly private park.

Residents with homes in the buildings directly adjacent to the park have exclusive access to the park's two well-kept acres.

Purchasing in one of the structures immediately bordering the park itself nets you two park keys in return for a yearly assessment of $7,500. The keys are a status symbol; the park is one of the most desired amenities in Manhattan. It's a massive draw for discerning buyers and renters alike.

Beyond the park, Gramercy features Greek and Gothic Revival and Italian architecture. There's an old-world ambiance that paints the whole community with an unapologetic upscale charm.

Despite its location — the neighborhood is practically equal distance between Midtown and Lower Manhattan — Gramercy's east-of-Park-Avenue setting provides a buffer from the city's more hectic environs.

Long a draw for actors and artists seeking a more low-key Big Apple existence, the area also showcases generously sized townhomes, lightly trafficked streets, and a near non-existence nightlife. If there were such a thing in Manhattan, Gramercy is the borough's bedroom-enclave community.

Even so, Union Square, Washington Square Park, NYU, and the Empire State Building are all within a short walk from the heart of the neighborhood. You can get almost anywhere in the city via train in a matter of minutes with Gramercy as your starting point
3. Greenwich Village

Greenwich Village is one of New York's true gems. With the almost 10-acre Washington Square Park at its heart and the 230-acre NYU campus bounding the neighborhood's southeastern corner, there's always a steady buzz in Greenwich.

The neighborhood borders some of New York's trendiest communities, including Flatiron, the East and West Villages, and SoHo.

But out of all of Manhattan's neighborhoods, Greenwich Village stands as a mirror of what makes New York one of the world's most spectacular cities.

Greenwich Village is a cultural hub. An artist's den. A bohemian melting pot. It's where Broadway initially tests what later become showstopping productions. It's a mecca of social upheaval and landmark change — it's here where the country's first racially integrated nightclub opened its doors and later where the national gay rights movement reached a flashpoint.

Immortalized time and again on film and television, Greenwich Village has endured as one of the county's most famous, infamous, and celebrated neighborhoods.

All of that, and it retains an undeniable charm and remains an outstanding and incredibly unique place to live. Among Greenwich's housing and investment potential, there are townhomes and walk-ups and mid- and high-rise options, all of which are nestled close to one of New York's most eclectic dining and nightlife scenes.
4. Hudson Square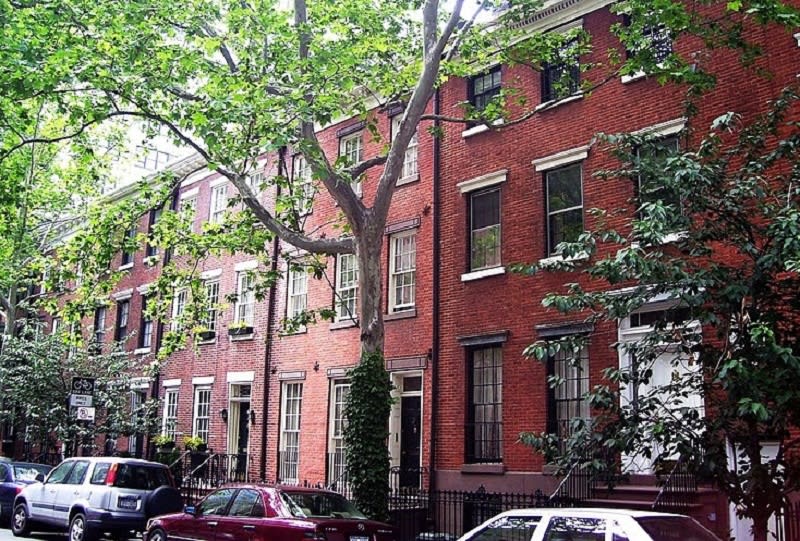 Once a quaint, quiet community that urbanites chose thanks to its proximity to Soho, Tribeca, the West Village, and a number of other NYC comforts, Hudson Square is no longer flying under the radar.

For many Manhattanites, Hudson Square is the next "it" place to live, work, and play. To see, be seen, and get in on the ground floor of an ever-evolving scene.

The primary draw? Headline-grabbing growth and development.

Alphabet, Inc., Google's parent company, is building a billion-dollar campus here. Disney has designs on its own fresh new digs — more than half a billion dollars to turn a block in Hudson Square into The Mouse House's New York City headquarters.

A once primarily industrial area, Hudson Square is blossoming. New and newly renovated housing opportunities are popping up across the community. Currently, there are nearly 20 new developments either completed, near completion, or in the building or planning phases.

With that new development, and in spite of the recent pandemic, an influx of new restaurants and bars are filling up a former void in the neighborhood's after-hours scene.

Indeed, opportunity is everywhere in Hudson Square.

Despite the shiny new residential expansion, the Lower Manhattan burg still carries some of its under-the-radar charm.

The Charlton–King–Vandam Historic District houses NYC's largest collection of Federal and Greek Revival row houses. The entrance to the iconic Holland tunnel is here. And so too is the Off-Broadway SoHo Playhouse, which sits on land where George Washington once headquartered.
5. NoMad

Often lost in the shuffle of its surrounding neighborhoods — Chelsea lies to the west, Flatiron to the south, and the bulk of Midtown to the north — NoMad (North of Madison Square Park) has made a name for itself in recent years.

The definition of up-and-coming, NoMad's enviable location makes it the ideal landing spot for posh, high-end hotels, of which there are many in NoMad. As it's practically in the center of Manhattan, it provides the perfect jumping-off point for those wanting to travel anywhere in the city via subway in short order.

But recent years have also seen a considerable boom in residential construction — most notably an uptick in the number of upscale luxury condos. The growing allure mirrors that of next-door Flatiron, where another recent rebirth turned that area from a manufacturing center and primarily industrial landscape into a trendy hub of well-appointed, amenity-rich buildings.

To be sure, NoMad shares plenty of traits with its neighbor to the south. Professionals and families who appreciate living at the halfway point between Lower and Midtown gravitate here.

There's also direct access to the quaint and quiet neighborhoods of Kips Bay and Gramercy to the east and the more rousing, hip enclave of Chelsea's to the west.

But it very much possesses its own soul.

The transformation of 6.2-acre Madison Square Park — which NoMad shares with the Flatiron District — at the turn of the 21st century laid the groundwork for the bustling, growing community that NoMad is today.

The neighborhood is ideal for all comers, young families, and professionals finding much to like about Manhattan's latest burgeoning investment opportunity.

Ready to rediscover the best of Manhattan neighborhoods as the city reopens and residents settle back into the world's most famous metropolis?

From Chelsea real estate to homes for sale in Gramercy, contact The Mackay Dixon Team today to start uncovering the city's best investment opportunities. Allow Benjamin, Matthew, and the rest of our team to be your guide to the best of New York and Manhattan real estate.