When people think of big-name attractions in NYC — the Empire State Building, Broadway theaters, and Times Square, to name a few — they're envisioning Manhattan. In the most densely populated borough in NYC, residents experience the leisure and convenience of living in the world's foremost financial, commercial and cultural centers.

We understand that finding the right place to settle in Manhattan can be challenging. Whether you're thinking of moving Uptown, Midtown, or Downtown, we're here to help make the process simpler. Here's a comprehensive guide to neighborhoods in Manhattan.
SoHo

One of the most desirable districts in Manhattan is the area South of Houston Street, lovingly known as SoHo. The formerly industrial neighborhood is now a world-renowned retail and culinary mecca both tourists and residents adore. SoHo is known for its cobblestone streets and majestic cast-iron structures — a picturesque backdrop for trendy crowds searching for one-of-a-kind retail and nightlife hotspots.

One of the oldest clothing stores still operating in SoHo is IF Boutique INC, a high-end shop featuring designer men's and women's clothes with an avant-garde, downtown style. IF Boutique is most notable for being the first in New York to carry designers like Comme Des Garcons, Yohji Yamamoto, Ann Demeulemeester, and several other eponymous fashion brands.

SoHo is immersed in artistic energy, which has been a part of its history since the end of its industrial era. When lofts previously used to house manufacturing factories of the 1950s lured in designers and artists, SoHo transitioned into the cultural epicenter it is today. The art scene is an incredible part of this rich cultural experience.

June Kelly Gallery specializes in various contemporary media, including photography, painting, and sculpture. Founded in 1987, this intimate gallery experience offers wonderful exhibits representative of a diverse group of artists. June Kelly Gallery curates quality, unique exhibits that patrons from all over the city enjoy.
Greenwich Village

Greenwich Village is the epitome of an NYC neighborhood. Bustling sidewalks, endless entertainment, and the iconic Washington Square Park are just a sample of what locals love about this area. Busy days turn into lively nights, and being centrally located means getting around is simple.

This historic area of Manhattan is flowing with youthful and creative energy. Founded in 1982, the Comedy Cellar is widely considered one of the best comedy clubs in the country. Beloved celebrity comedians like Robin Williams, Chris Rock, Patton Oswalt, and so many others have graced the stage with their performances. You usually find comics hanging out at The Olive Tree Cafe after their performances. This adored restaurant, located above the club, serves a mix of American and Middle Eastern cuisine and entertains diners with Charlie Chaplin films. It's a fun spot to grab a bite before or after a show.

Greenwich Village is home to another iconic entertainment spot, the IFC Theatre. Opened in 2005, this downtown cinema is the ultimate space for premiering independent, documentary, and foreign films. After seeing something new at IFC, head over to Da Toscano for comforting Italian plates and the warm, intimate atmosphere. Their menu brims with authentic, classic Italian pasta dishes and fresh seafood options.

TriBeCa

The "Triangle Below Canal Street," commonly known as TriBeCa, is one of the most expensive neighborhoods in NYC due to the high-income average among the residents. Wall Street professionals, celebrities, and affluent young families are attracted to this spacious, quiet neighborhood and exclusive amenities in the area. In TriBeCa, locals enjoy strolling the waterfront views by Hudson River, lush outdoor greenery, and exploring the dining scene.

On Pier 26 in Hudson River Park sits City Vineyard, a one-of-a-kind wine bar with high-quality New American cuisine, live music, and year-round riverfront dining. You can enjoy their selection of wine on tap in the covered rooftop wine garden and capture incredible views while dining beneath the live grapevines.

A 10-minute walk south of City Vineyard will lead you to the BMCC Tribeca Performing Arts Center on Chambers Street. As the longest-running performance venue in lower Manhattan, the BMCC Tribeca PAC is dedicated to showcasing children's theatre, dance, and music from both established and emerging artists. Amid the residential and downtown business district on Chambers Street, this venue draws in an assortment of audience members from all over the metropolitan area.
Chelsea

Life in Chelsea blends tranquil residential areas and buzzing nightlife. This diverse community is brimming with families, young couples, fitness buffs, dog lovers, and other vibrant neighbors with whom you can connect.

Commuting anywhere in Manhattan by train or car comes easy in Chelsea. Whether you need to travel through Penn Station or the PATH train, Chelsea is conveniently located to these transits, as well as several subway lines.

Chelsea is a beacon for avant-garde, historic architecture, and world-class art galleries. Founded in 1985, Luhring Augustine is described as an edgy and eclectic art gallery that features painting, video, sculpture, and photography. The gallery showcases innovative contemporary and rigid historic exhibitions offering various unique works of art for guests to enjoy.

Next door to Luhring Augustine is the Matthew Marks Gallery, one of the most extensive galleries in Chelsea. Within 18,000 square feet of exhibition space, they present between 13 to 15 exhibitions annually in various media, including sculpture, printmaking, photography, and painting.

If you head two minutes south of Luhring Augustine, Matthew Marks, and several other incredible galleries, you'll find Bottino, a quaint Italian restaurant serving Tuscan cuisine and wines. The outdoor seating is set in a picturesque garden where locals savor pasta and sandwiches paired with special house cocktails.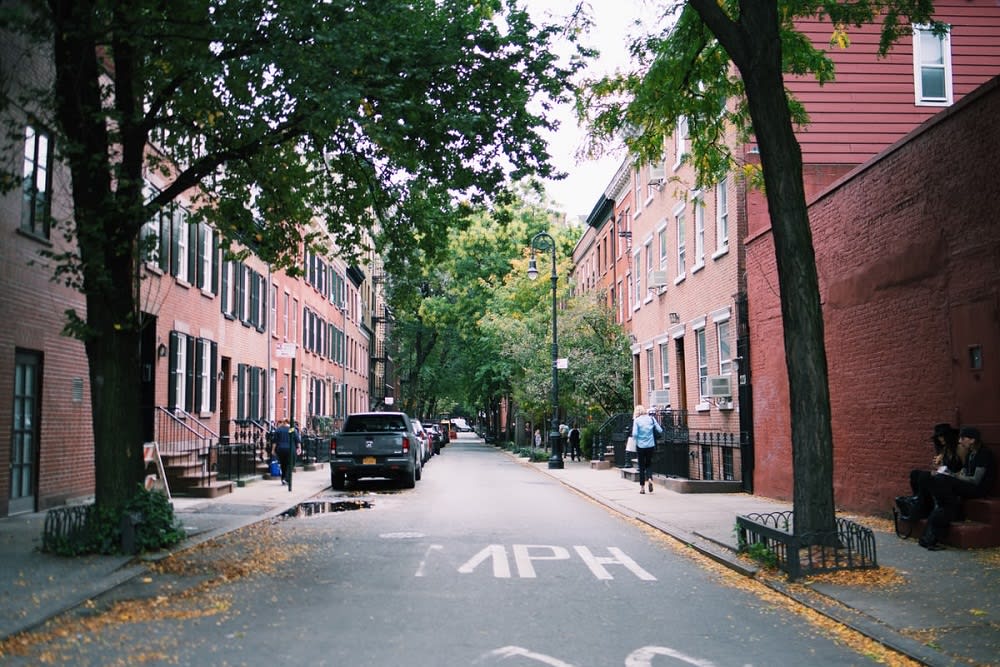 West Village

Welcome to the West Village, a laid-back, sophisticated pocket of lower Manhattan. This mellow neighborhood is a popular destination for shopping, theater culture, and notable eateries. You can expect grand, towering brownstones, winding streets, and less foot traffic in this bohemian-influenced area.

There's so much to explore in this foodie and shoppers' paradise. At Boucherie, a traditional French steakhouse and bistro, they believe in celebrating "joie de vivre," or an exuberant enjoyment of life. The Boucherie menu serves classic French cuisine and timeless bistro favorites. They've also developed an absinthe-driven menu of signature cocktails in addition to their extensive wine list. Locals highly recommend their dry-aged steaks, excellent service, and refreshing atmosphere.

Shopping on Bleecker Street is essential in the West Village. Reiss on Bleecker Street is a high-end retail brand in operation since 1978 and is known for its modern spin on casual and formal clothing designs. Their design philosophy centers on developing original and innovative fashion for men and women by fusing quality, remarkable design, and value.

While West Village is known to be a peaceful neighborhood, the nightlife and entertainment scene are lively. You can find Cherry Lane Theatre, the oldest continuously running off-Broadway theater in NYC. The historic Cherry Lane Theatre mainstage is responsible for fueling cutting-edge experiments and movements that have aided in the shape of the American Stage. Since 1923, Cherry Lane Theatre has been dedicated to providing an experimental space — safe for artists to push the confines of storytelling and for patrons to evolve with a new sense of narrative.
Gramercy

If you're looking for an area with a small-town feel that's still conveniently central, Gramercy is a serene neighborhood with a quaint village charm. This area was designed for fashionable, high-society families and has a private neighborhood feel to it, despite its location within Manhattan.

Gramercy is known for grand, spacious brownstones adorned in lush greenery on almost every block. Residents enjoy the quiet, laid-back lifestyle and the excellent cuisine and bar scene.

A notable eatery in Gramercy is Chito Gvrito, a modern Georgian restaurant that offers a seasonal menu featuring classic Georgian flavors with a modern spin. Chito Gvrito is beloved by locals and known to welcome all as friends and family — a tradition in genuine Georgian hospitality. Locals enjoy various menu options, from brunch to dinner, and their excellent selection of Georgian wines and craft cocktails.

Gramercy is also home to the Fotografiska New York, a branch of the Swedish photography museum Fotografiska. Located in a six-floor Renaissance Revival-style historic building, Fotografiska New York features world-class photography, upscale dining, and live music. This is not your traditional New York museum and is a destination you must experience for yourself.

Vintage Thrift is a Gramercy favorite for shopping who gently used antique merchandise in a boutique setting for those who appreciate unique finds. Shoppers can find one-of-a-kind items from clothes and jewelry to housewares and furniture from their daily changing selection of products.

No matter what part of Manhattan suits your needs, The Mackay Dixon Team are experts in Manhattan real estate and can help you navigate the market. From SoHo lofts to Chelsea brownstones for sale, their experienced real estate agents will make buying or selling effortless. Contact The Mackay Dixon Team to make an appointment today.